Welcome to the Moose Stop, Our Log Cabin in Medicine Bow National Forest, West of Laramie, Wyoming
The cabin originally came with a pellet stove. The upside of a pellet stove is that it is thermostat controlled. The downside of the pellet stove was that it had trouble getting the cabin up to a comfortable temperature in the middle of winter; it requires us to transport pellets up to the cabin; and it requires a lot of electricity.
We have two plans for updating the heating. First of all, we are replacing the pellet stove with a wood stove. We are using a Harman TL300 wood stove. The stove has a top load feature and a catalytic burn chamber which makes it more efficient and reduces emissions. Because it is a top load, it has a grill which allows us to cook on the wood stove.
Before we could install the stove, we had to update the hearth pad. The original pad was brick, but the new pad would need to be bigger. We chose to chip out the original pad and put in a new ceramic tile hearth pad with the correct dimensions.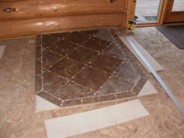 Click on the thumbnail pictures to see larger images.
The wood stove was installed by the local wood stove store.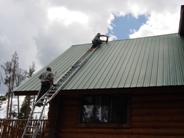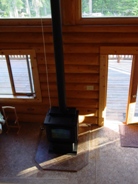 Click on the thumbnail pictures to see larger images.
The second part of upgrading the heating of the cabin is to add small, wall-mount ventless, propane heaters to the bedroom and bathroom. Because these rooms are on the north side of the cabin and a little isolated from the rest of the cabin, they are difficult to heat up. We think some small propane heaters will be good for taking the chill off of the rooms.