Welcome to the Moose Stop, Our Log Cabin in Medicine Bow National Forest, West of Laramie, Wyoming
Over the summer of 2015, we finally got the drywall mudded, textured, and painted. This allowed us to finally do flooring. In October 2015, we carpeted the upstairs loft area. Carpeting the loft allowed us to move the big log furniture from the main floor bedroom up to the loft.
Over the winter and spring of 2016, we planned the wood flooring. We wanted a floor which would contrast the light log around the cabin. We looked at finishes from dark red through gray and finally settled on a dark brown oak finish. We ordered the floor in the late spring and had it delivered as soon as the roads were clear of snow. We gave the wood about 6 weeks to acclimate to the cabin before installing. Based on the environment and the size of the boards, it was recommended that we glue the wood down. There may be advantages to gluing the wood floor, but it is more complicated and slower than nailing. Also, the glue used for wood flooring is very messy and if you're not careful can get all over. It took us about 4 weekends (including a 3 day Labor Day weekend) to do the main floor and stairs. Click here to see a time-lapse of us installing the floor.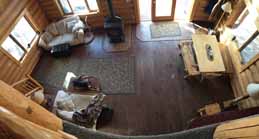 Finally, after finishing the wood floor, we installed carpet in the downstairs bedroom.